Our Services. Your Needs
Expert services for both patients and caregivers.
Your pharmacy for yesterday, today, and tomorrow
At Asti's South Hills Pharmacy, it is our goal to provide you with a full service pharmacy that offers superior customer service and quality products with an old fashioned style. We are dedicated to providing a wide range of products and services to meet your needs today and tomorrow.

We are more than a pharmacy.






Immunizations
Here at Asti's, immunizations are available daily on a walk-in basis to all Asti's customers. Each pharmacist is licensed and trained to provide you with a variety of vaccinations from flu prevention to vaccines against pneumonia and shingles. Most vaccines may be administered without an additional trip or copay to your doctor and can be covered by your insurance at little to no cost.

Are you traveling internationally? Schedule a travel consultation to receive any needed vaccines or preventative care to ensure an enjoyable (and safe) vacation! While preparing for your trip, we can even ensure that you have all of your over the counter items.

Talk with one of our pharmacists today to make sure you are up-to-date with all of your current vaccines!
Compounding Services
What is Compounding
Compounding is the art of a pharmacy using a mortar and pestle to create medications that are customized to uniquely fit your needs. This customized service requires a commitment between the pharmacist, physician, and patient to achieve quality outcomes.
How Can Compounding Help You?
Medication Dosage, Allergies, and Issues
Some patients cannot swallow a pill and therefore require the medication to be made into a liquid form. Also, allergies to excipients in commercial medications such as lactose, casein, gluten, dyes, and preservatives require custom formulas. Sometimes a special dose of medication is required that is no longer commercially available. Compounding can help in all of these situations.
Pain Management, Hormone, and Thyroid Replacement
Pain management medications can sometimes cause an upset stomach, and Asti's pharmacy specializes in helping address this issue by compounding medication into a topical cream. This cream can then be applied directly to the painful area. Compounding can also be used for patients looking for bio-identical hormone replacement, which is replacing hormone levels in women and men; this includes thyroid replacement.
Custom Topical, Child, and Pet Medication
Many patients need special topical cream for treatments of rashes, eczema, acne, psoriasis, warts, and wound healing. Asti's can help formulate these creams directly for each patient. Children and babies who typically have difficulty taking medications can also benefit from compounding. By working with our compounding pharmacist, we can flavor and create the right volume to ease the process for both caregiver and child. Also, Pet's need medication, too. We can create topical creams, oral liquids, capsules, and treats to meet all of your pet needs.
Commitment to Excellence
Asti's South Hills Pharmacy is the first pharmacy in Pittsburgh to be accredited by Pharmacy Compounding Accreditation Board (PCAB) for compliance with PCAB Pharmacy Compounding Accreditation Standards!

PCAB is a service of Accreditation Commission for Health Care (ACHC) and is a third-party accreditation organization that has developed the highest national standards that providers are measured against to illustrate their ability to effectively and efficiently deliver quality compounded medications to consumers. PCAB performs on-site visits with industry-expert Surveyors who audit specific areas of performance. PCAB Accreditation also requires annual validation to ensure continued compliance with all applicable standards.
What Does It Mean for You?
By choosing a compounding pharmacy that has achieved PCAB Accreditation, you can be assured that you have selected a pharmacy that is committed to meeting national quality standards.

If you have any concerns about the product or service that you receive from Asti's South Hills Pharmacy, you may contact ACHC directly at 855-937-2242.
Disease State Educational Programs
At Asti's, we continue to care about your health after you leave the store. One way we strive to help you stay healthy is by providing free disease education. Here you can learn more about your diabetes, how to quick smoking, what to do if you have high blood pressure and more.

Are you interested in attending an upcoming session? Click here to send a message to one of our clinical pharmacists with your area of interest and we will notify you of any upcoming educational sessions!
Medication Therapy Management
Do you have questions about your medications? What if you think one of the medicines is causing a side effect?

Schedule a one-on-one meeting, a Medication Therapy Management (MTM) session, with one of our trained pharmacists. Here you can have a full mediation review that includes prescription, over the counter, and herbal items to verify that all are efficiently working properly and safely. In addition to medication, your session will include an immunization review and blood pressure check-in.

Allow one of our pharmacists to take the lead to resolve any problems with your current medications! A MTM may be available at no cost and many Medicare Part D insurance plans include MTM as part of your benefits. Call today to schedule your appointment or find out more!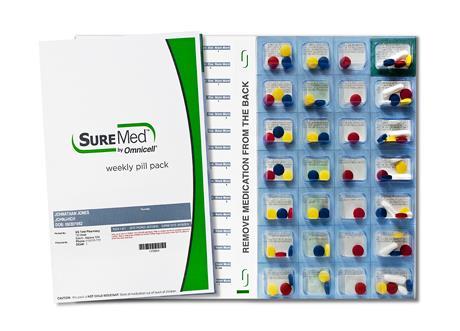 Adherence Packaging - RxMAP
Taking multiple medications daily can be confusing. Did you forget to take a dose or have you taken one too many times? With Asti's RxMAP program, we take the confusion out of taking your medication. Our Medical Adherence Packaging helps you take your medications just as the doctor ordered.
Each month you'll receive four weekly disposable pill boxes that our pharmacists will fill with your morning, noon, evening, and bedtime medications for each day. What is even better? All of this can be done at no additional charge beyond your
copay's
. We'll call you each month to verify your medications and check for any problems or concerns.
If you are taking over the counter medications or vitamins, not a problem! We can include all your medications into the packs with competitive pricing. Each box also includes a list of your current medications, which is perfect to take to doctor's appointments or the hospital in case of emergency.
Allow us to take the guess work out of your daily medication routine and join the RxMAP program today!